Software
Software for optical instruments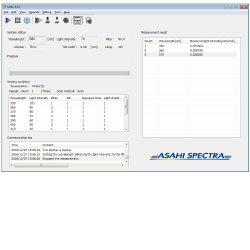 You can control our optical instruments from PC.
A serial number and your company name are required to download software.
Some of them are provided by CD-ROM only.
* Both 32bit and 64bit are available. We support both English OS and Japanese OS.
* We do not support Unix, Linux and macOS
* You cannot use our software by a tablet PC.
21151 South Western Avenue, Suite 204, Torrance, CA 90501 USA
© 2023 Asahi Spectra USA Inc.
All right reserved.