Software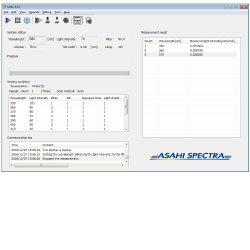 Software for optical instruments
You can control our optical instruments from PC.
A serial number and your company name are required to download software.
Some of them are provided by CD-ROM only.
Models
Download
Names
Compatible Models
Windows *
7
8.1
10
MAX-350-S-N
DL
Software for Xenon Light Source
MAX-350
✓
✓
✓
LMC-S-N
CD-ROM
Software for Monochromatic Illuminator
MAX-350 / MAX-303 / HAL-320 / LAX-C100 / FHL-102
CMS-100 / CMS-250
✓
✓
✓
CMS-API
DL
Program Control Library
CMS-100
✓
✓
✓
TLV-S-N
DL
Software for Transmittance Meter
TLV-304-LC / TLV-304-BP / TLV-304-IR
✓
✓
✓
*Both 32bit and 64bit are available. We support both English OS and Japanese OS.
*We do not support Unix, Linux and macOS
*You cannot use our software by a tablet PC.