Single Monochromator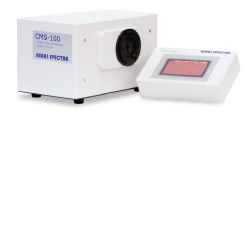 CMS-100
Fast single monochromator with Czerny-Turner design
Features
Tuning wavelength from 250nm to 900nm with our light source
Monochromatic light (Resolution: 2.6nm~)
Fast monochromator (F/2.8)
Adjustable slit width
Selectable blaze wavelength
External touch panel controller

Movie clips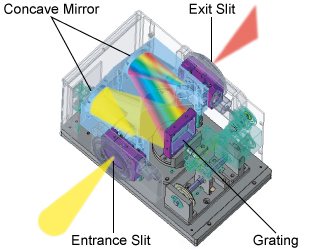 Czerny-Turner Design
Fast single monochromator of the Czerny-Turner design.
Program control library (API)
Downloadable from this page.
RS485 cable
Adapter cable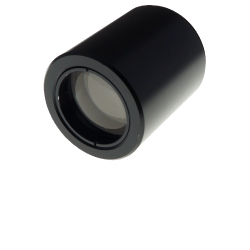 Collimator lens unit
Lens unit for emitting the parallel light.
Model
CMS-100
Optical configuration
Czerny-Turner
Focal length
100mm
F-number
F/2.8
Wavelength range
220 - 900nm (Effective range)
*It depends on the grating.
0 - 900nm (Settable range)
Reciprocal linear dispersion
8.3nm/mm (at 550nm)
Resolution
1) 2.6nm 2) 4.3nm 3) 8.6nm
*It depends on the slit width. (Calculated value at 546.1nm)
Wavelength accuracy
±1.0nm *Room temperature: 25 deg C
Wavelength reproducibility
±0.2nm *Room temperature: 25 deg C
Minimum step
0.1nm (Pulse motor drive)
Grating
Size 40 x 40mm
Clear aperture 36 x 36mm
Groove density 1200g/mm
Blaze wavelength 250nm, 400nm, 500nm *Select 1 type.
Slit
W x H / 1) 0.3 x 3.0mm 2) 0.5 x 3.0mm 3) 1.0 x 3.0mm
*It can be selected automatically by controller.
Scanning method
Sine-bar
Driving method
Pulsed motor drive
Input voltage
DC12V
AC adapter input range AC100 - 240V 50/60Hz
Apparent power
Less than 15VA (AC100V/50Hz)
Less than 15VA (AC240V/50Hz)
Remote control
RS-485 and adapter cable
Recommended environment
Temperature 10 - 35 deg C
Humidity less than 70% *Avoid condensation
Dimensions
Main unit 231(W) x 175(D) x 143(H)mm
Controller 160(W) x 100(D) x 47(H)mm
Weight
Main unit 5.6kg
Controller 0.7kg (Not including cable)
Blaze Wavelength and Diffraction Efficiency (Groove density 1200g/mm)