Transmittance Meter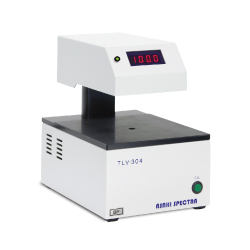 TLV-304-BP
Quick check of transmittance with intended wavelength by a bandpass filter
Features
Selectable wavelength by bandpass filter

*Option

One-touch calibration
Not affected by ambient light
Long lamp life
Remote control software
Judgment function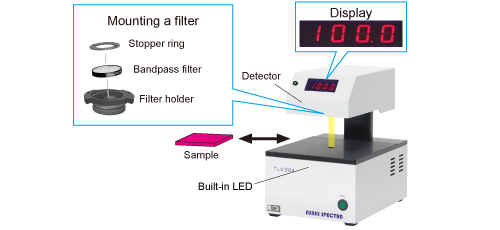 The TLV-304-BP is a compact transmittance meter. This unit quickly measures
the transmittance with intended wavelength by bandpass filters.
It allows easy measurement by placing a sample after one-touch calibration.
It is suitable for a quick inspection process to conduct large volume of measurements.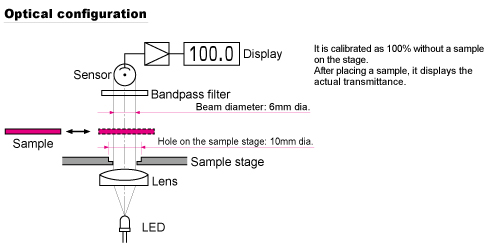 Transparent conductive film glass
Film
Glass blank
Resin material
Filter glass
Model
TLV-304-BP
Output wavelength
440-730nm *Specified by a filter
Spectroscopy device
Bandpass filter 25mm dia.
Light source
White LED
Display
4 digit digital display (xxx.x) Unit: %
Measurement accuracy
Within ± 2% *1
Measurement reproducibility
Within ± 0.5%
Measurement time
200ms
Distance between detector and light source
Approximately 50mm
Beam diameter
6mm dia.
Sample size
Min. 15mm dia.
Input voltage
AC100 - 240V 50/60Hz (Input range: AC85 - 264V)
Apparent power
Less than 7VA (AC100V/50Hz)
Remote control
RS485 *The cable is optional.
Recommended environment
Temperature 10 - 35 deg C
Humidity less than 70% *Avoid condensation
Dimensions
150(W) x 204(D) x 213(H)mm
Weight
2.9kg
*1 It is calculated by a measurement of JQA guaranteed sample.