Halogen Light Source 100W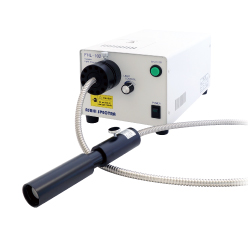 FHL-102
Halogen Light Source 100W
Features
NIR output
Light control by the variable slit
Compact design
High stability
Flexible illumination by light guide
RS-485 remote control

*Option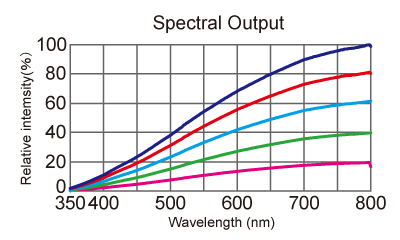 Shutter Function
Light Control Function
The light intensity is mechanically controlled by the variable slit.
There is no change in color temperature.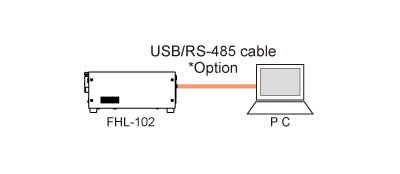 RS-485 Remote Control
The FHL-102 can be controlled remotely by using USB/RS-485 cable.
You can control several units by daisy chain connection.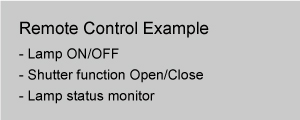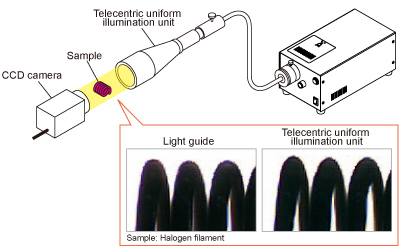 Telecentric Backlight Illumination
You can reflect the sample silhouette sharply by using the
telecentric uniform illumination unit as the backlight illuminator.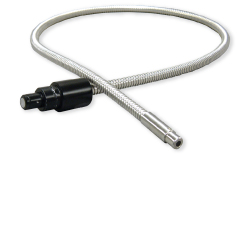 Light Guide
The output light from the FHL-102 is delivered to a desired direction by the light guide.
We also offer a multi-branch light guide for custom.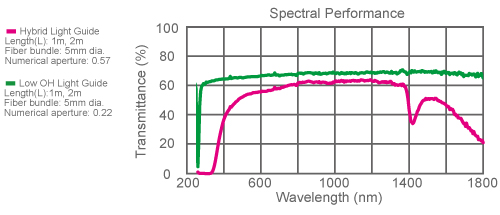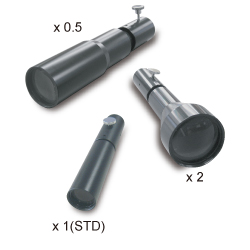 Collimator Lens
The collimator lens achieves a square uniform illumination by connecting to a light guide.
Uniformity is around 90%
3 choices of illuminated area size
Focus is adjustable at any working distance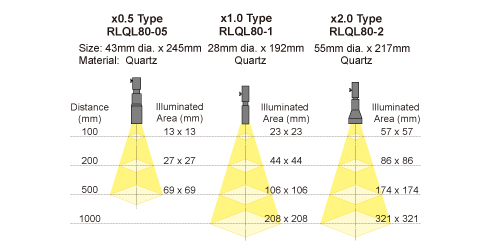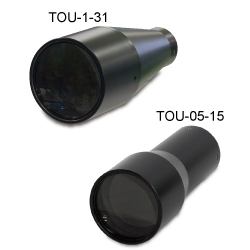 Telecentric Uniform Illumination Unit
The telecentric uniform illumination unit achieves a parallel illumination by connecting to a collimator lens.
Uniform illumination
2 choices of illuminated area size
Light intensity is the same at any working distance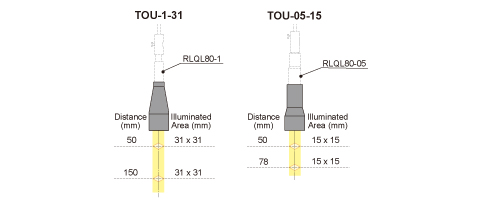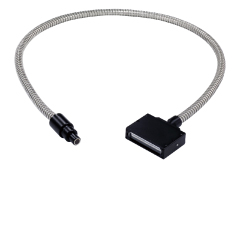 Line Light Guide
The line light guide delivers light with the line shape.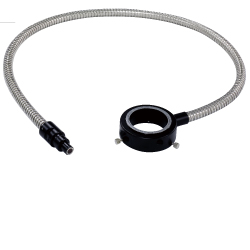 Ring Light Guide
The ring light guide achieves a shadowless uniform illumination by illuminating from all directions.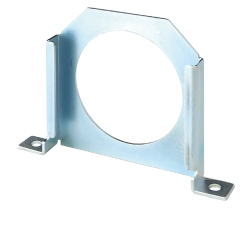 Filter Holder
An optical filter can be mounted inside the unit with the filter holder.
*Size: 50x50mm / Thickness: Less than 6mm
Model
FHL-102
Output wavelength
from VIS to NIR
Input voltage
AC100 - 240V 50/60Hz
(Input range: AC90 - 264V)
Apparent power
Less than 170VA
Lamp type
Reflector halogen lamp 100W 12V100W (AL)
Lamp voltage, current
12V100W(DC) *Representative value
Lamp life
1000h (Average) *Not guaranteed
Cooling method
Forced air cooling
Functions
Shutter Open/Close: Solenoidal drive
Light intensity control: Variable slit
Control method
Built-in controller
Remote control
RS-485
Safety mechanism
Cooling fan problem, Lamp status monitor (RS-485)
Recommended environment
Temperature 10 - 35 deg C
Humidity 20 - 80% *Avoid condensation
Dimensions
155(W) x 280(D) x 131(H)mm
Weight
3.4kg