Luminous Transmittance Meter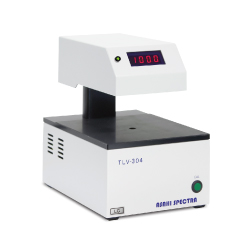 TLV-304-LC
Quick check of transmittance with a value close to sensitivity of human eyes
Features
Built-in photopic filter
One-touch calibration
Not affected by ambient light
Long lamp life
Remote control software
Judgment function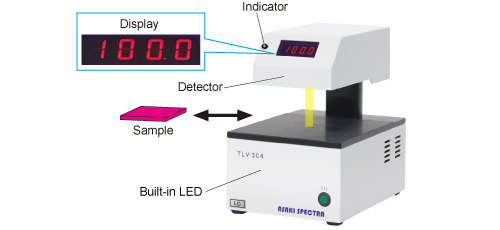 The TLV-304-LC is a compact transmittance meter with a correction filter
which approximates to the luminosity curve. This unit quickly
measures the transmittance with a value close to sensitivity of human
eyes and allows easy measurement by placing a sample after one-touch
calibration. It is suitable for a quick inspection process to conduct large
volume of measurements.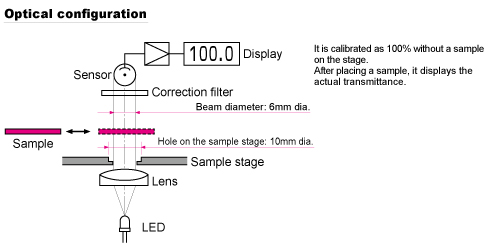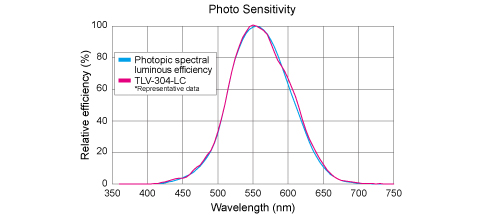 Photo Sensitivity
Transparent conductive film glass
Film
Glass blank
Resin material
Filter glass
Eyeglass lens
Model
TLV-304-LC
Photo sensitivity
Approximation of photopic spectral luminous efficiency
Light source
White LED
Display
4 digit digital display (xxx.x) Unit: %
Measurement reproducibility
Within ± 0.5%
Measurement time
200ms
Distance between detector and light source
Approximately 50mm
Beam diameter
6mm dia.
Sample size
Min. 15mm dia.
Criteria for judgement function
Green indicator (ON, OFF or Blink)
Input voltage
AC100 - 240V 50/60Hz (Input range: AC85 - 264V)
Apparent power
Less than 7VA (AC100V/50Hz)
Remote control
RS485 *The cable is optional.
Recommended environment
Temperature 10 - 35 deg C
Humidity less than 70% *Avoid condensation
Dimensions
150(W) x 204(D) x 213(H)mm
Weight
2.9kg