ZBPA260 Bandpass Filter / 260nm 50x50mm
The following actual transmission curve is shown only for your reference.
---
Specifications
Description
Bandpass Filter / 260nm
Item#
ZBPA260
Coating Method
Electron Beam Deposition
Angle of Incidence (AOI)
0 degree (CWL shifts if the AOI changes.)
CWL
260nm +2/-2nm
FWHM
10nm +2/-2nm
Transmission in Passband
T>20%
Number of Cavities
3 cavities
Blocking

T<0.1% 200-500nm
T<0.01% 500-1100nm
Size
50x50mm +0.5/-0.5mm
Clear Aperture
44x44mm
Thickness
6.4mm +0.2/-0.2mm
Substrate
Fused Silica
---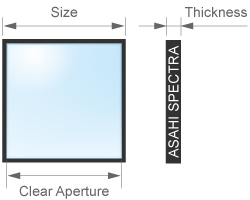 21151 South Western Avenue, Suite 204, Torrance, CA 90501 USA
© 2023 Asahi Spectra USA Inc.
All right reserved.