News
November 22, 2017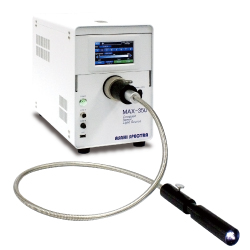 New version of the xenon light source 300W, MAX-350
Heatless illumination with desired wavelengths for photochemical research
Asahi Spectra released the new version of the xenon light source 300W, the MAX-350. Compared to the former model,
it is easier to access the optical filters which are mounted inside the unit. In addition, you can operate the unit by the comprehensive touch panel.
This unit is useful especially for photochemical study and material research. Thanks to the mirror module, you can use a desired wavelength range
with blocking the IR heat of the xenon spectrum. As a result, you won't destroy a sample by IR heat. In addition,
it is also easy to select several wavelengths quickly by the embedded filter wheel.