News
March 31, 2016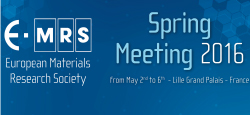 E-MRS 2016 Spring Meeting
Booth No. 77
May 3-5 2016
Lille Grand Palais
Lille, France
Asahi Spectra will exhibit our products at the E-MRS 2016 Spring Meeting in Lille. We will present the monochromatic illuminator MAX-303
which can emit several monochromatic wavelengths by optical component. A light intensity is stronger than a grating monochromator system
and an emitted light has less IR heat of xenon lamp. For these reasons, this unit is useful especially for photochemical study such as photocatalyst,
artificial photosynthesis, photoisomerization, water splitting and so on. In addition, the prototype of photoreaction
and absorbance measurement unit will be also exhibited. This unit is for measuring an absorbance just after an excitation with one touch operation.
Visit to our booth
#77
, and find out a solution for your research.
We will exhibit the following items at the site.
Photoreaction and absorbance measurement unit (Prototype)