Solar Simulator (400-1100nm)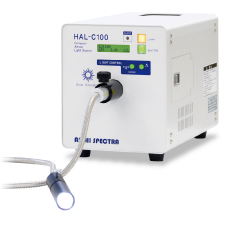 HAL-C100
Compact entry model for introduction of photovoltaic research
Features
JIS* Class AAA solar simulator (400-1100nm)
Built-in AM1.5G filter
Flexible illumination by light guide
Adjustable light intensity
No need of optical axis alignment
RS232C remote control
*JIS, Japanese industrial standards is equivalent to IEC.
Compact solar simulator achieves Class AAA with fiber output system
Wavelength (nm)
Energy
Distribution (%)
Spectral
Match
Class
HAL-C100
JIS
400 - 500
21.0
18.4
1.14
A
500 - 600
20.3
19.9
1.02
A
600 - 700
17.8
18.4
0.97
A
700 - 800
13.2
14.9
0.89
A
800 - 900
11.8
12.5
0.94
A
900 - 1100
15.8
15.9
0.99
A

Spectral Match
Our own designed AM1.5G filter corrects xenon emission lines according to Class A.
This simulator can evaluate not only a crystal type, also dye- sensitized solar cells, CIGS and so on.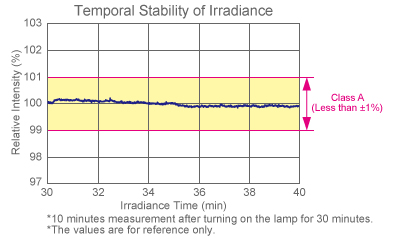 Temporal Stability of Irradiance
There is less flicker and stable output at long times.
*If you use the HAL-C100 for a long time, we recommend that you use the constant-voltage power supply so that the HAL-C100 is not influenced by the change of load.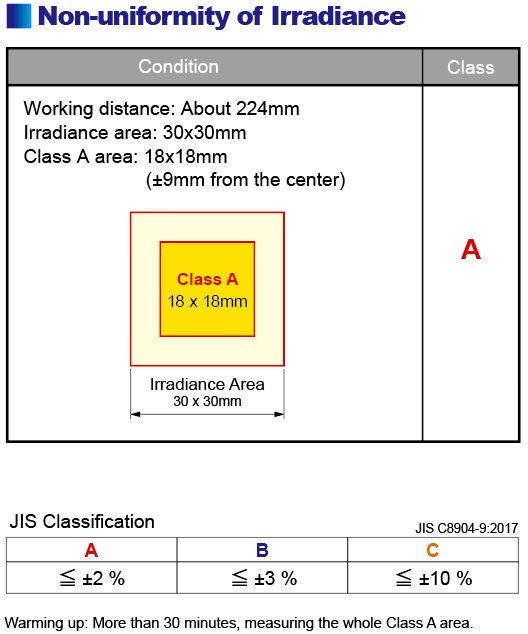 Uniformity
The calculated value of 1SUN in the range of 400-1100nm is about 75mW/cm².
Working distance: about 224mm

You can obtain Class A uniformity in the area 12x12mm with 1 SUN intensity when you set the ND control by about 50% of initial lamp as described in the right figure.(factory default setting)
Light intensity decline due to a lamp life can be adjusted by light intensity control.
Above the size of class A area is reference value. Please note that the output of lamp varies among the manufacturing lots.
| Item | Class A | Class B | Class C |
| --- | --- | --- | --- |
| Positional uniformity of irradiance (%) | </=±2 | </=±3 | </=±10 |
| Temporal stability of irradiance (%) | </=±1 | </=±3 | </=±10 |
| Spectral match | 0.75 - 1.25 | 0.6 - 1.4 | 0.4 - 2.0 |
JIS Classification
JIS, Japanese industrial standards is equivalent to IEC.
Flexible Configuration with Light Guide

Solar Simulator for Various Inspection and Research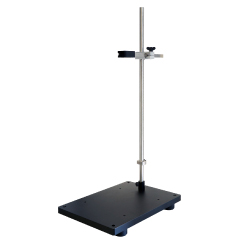 Stand for Collimator Lens
This mounting system offers superior stability and versatility.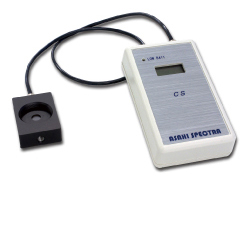 1 SUN checker is used for checking the light intensity (1 SUN) of HAL-C100. It is battery operated and portable.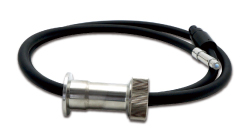 Light Guide (TPO)
This light guide is the option for bringing a light into a glove box. The gauge port is equipped.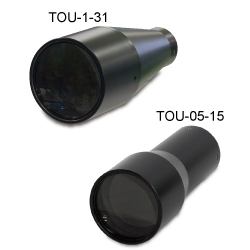 Telecentric Uniform Illumination Unit
The telecentric uniform illumination unit achieves a parallel illumination by connecting to a collimator lens.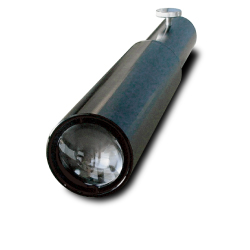 High Condensing Lens
The high condensing lens achieves a high density illumination by connecting to a light guide.
Model
HAL-C100
Output wavelength
400 - 1100nm
Circuit method
Switching power supply
Input voltage
AC100V 50/60Hz (Input range: AC90 - 132V)
AC200V 50/60Hz (Input range: AC198 - 264V)
*Select input voltage when placing an order.
Apparent power
Less than 350VA (AC100V/50Hz)
Less than 440VA (AC240V/50Hz)
Lamp type
Xenon lamp 100W
Lamp voltage, current
12.8 - 14V 7.2A (DC) *Representative value
Lamp life
500h (Average)
*When the light intensity has decreased by 50% from the initial value.
Optical axis alignment
Cartridge type (Alignment-free)
Cooling method
Forced air cooling
Shutter
Pulsed motor drive
Light intensity control
100 - 5 (Steps)
Continuously variable
Air Mass filter
Air Mass 1.5G filter
Emitting method
Bundled light guide
Controller
Built-in
Remote control
RS232C *The cable must be less than 3m.
Safety mechanism
Xenon lamp problem, Rear door is open,
Lamp usage exceeds 500 hours, Cooling fan problem,
Temperature anomaly
Recommended environment
Temperature 10 - 35 deg C
Humidity 20 - 80% *Avoid condensation
Dimensions
200(W) x 340(D) x 245(H)mm
Weight
8.9kg