High-power Xenon Light Source with Double 400W Lamps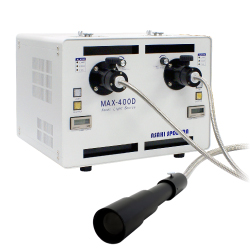 MAX-400D
Approximately 400% higher output in VIS range compared to MAX-350
Features
High power output in VIS range
Simple operation
Adjustable light intensity
Flexible illumination by light guide
No need of optical axis alignment
Optical filter is mountable *Option
RS-485 remote control
Output Spectrum of MAX-400D
It is approximately 400% higher in VIS range compared to MAX-350.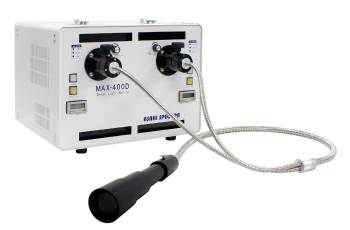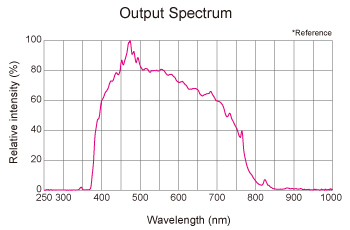 Bright light source for the following applications:
High speed camera
Evaluation of camera sensor
Image processing system
Microscope with high speed camera
Backlight illumination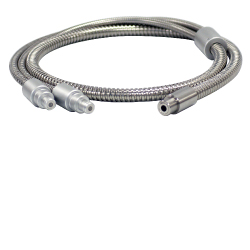 Multi-branch Light Guide
Output light from MAX-400D is delivered to a desired direction by the light guide.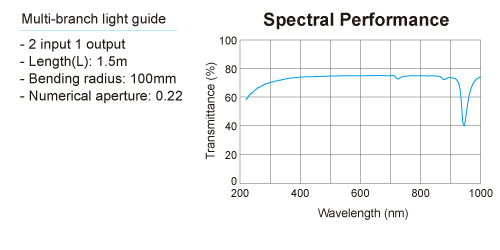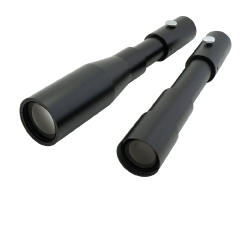 Collimator Lens
Each collimator lens is designed to provide the uniform illumination by using with the light guide.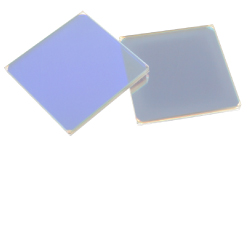 Optical Filter
We offer a wide variety of optical filters. Please contact us for details.
Usable filters - Size: 50x50mm / Thickness: Less than 6mm
Model
MAX-400D
Output wavelength
400 - 700nm
(Super cold filter YSC0750 is equipped.)
Input voltage
AC100 - 240V±10% 50/60Hz
Apparent power
Less than 1360VA (AC100-240V, 50/60Hz)
Lamp type
Xenon lamp 400W (VIS) x 2 pcs
Lamp voltage, current
14.3V 28A(DC) *Representative value
Lamp control method
Constant-current system
Guaranteed lighting time
500h *Under our conditions, less than 1 year after delivery
Optical axis alignment
Cartridge type (Alignment-free)
Cooling method
Forced air cooling
Function
Shutter
Light intensity control (manual) *It can be decreased to about 30% assuming that the max. light intensity is 100%.
Lamp usage hour counter (unit: h)
Filter holder (50mm dia. or 50x50mm, t<6mm)
Remote control
RS-485
Safety mechanism
Spare fuse is installed, Overcurrent protection
Lamp turns off and warning lamp turns on:
Lamp anomaly / Top cover is open
Cooling fan problem / Temperature anomaly
Recommended environment
Temperature 10 - 35 deg C
Humidity 20 - 80% *Avoid condensation
Dimensions
390(W) x 341(D) x 292(H)mm
Weight
19.8kg