Solar Simulator (350-1800nm)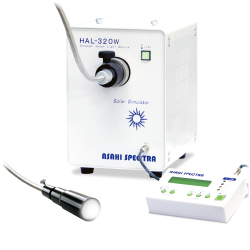 HAL-320W
95% high approximation of solar spectrum with AM1.5G, compact design and fiber illumination
Features
High approximation of solar spectrum
NIR output with high approximation
Built-in AM1.5G filter
Flexible illumination by light guide
Adjustable light intensity
Self-contained lamp and power supply
No need of optical axis alignment
External controller
RS232C remote control
*JIS, Japanese industrial standards is equivalent to IEC.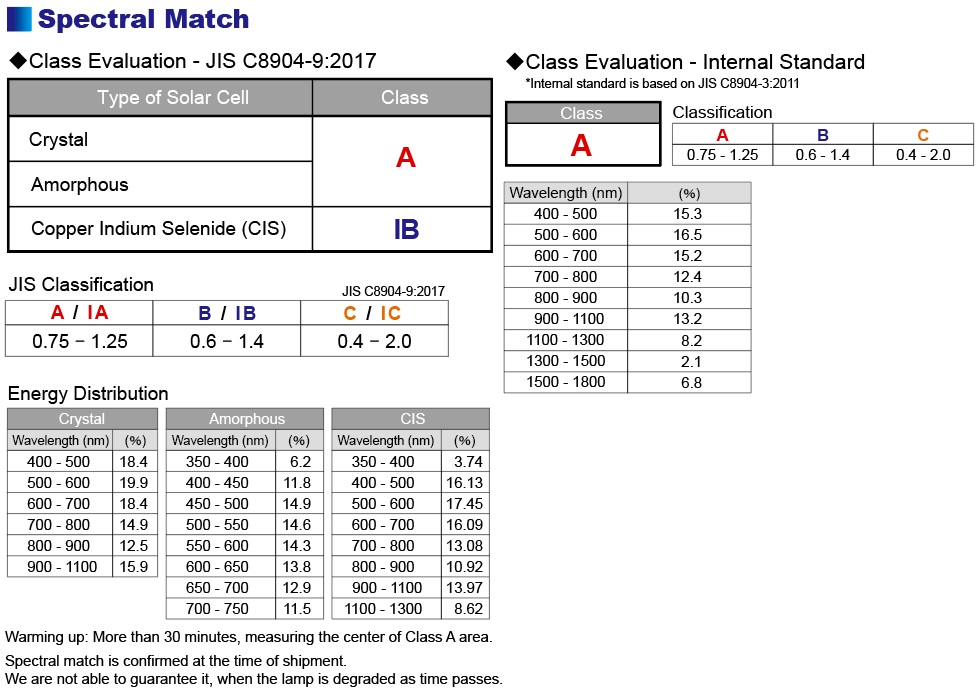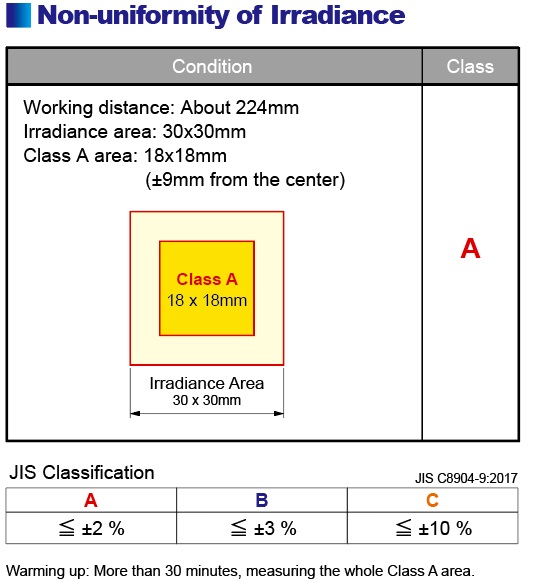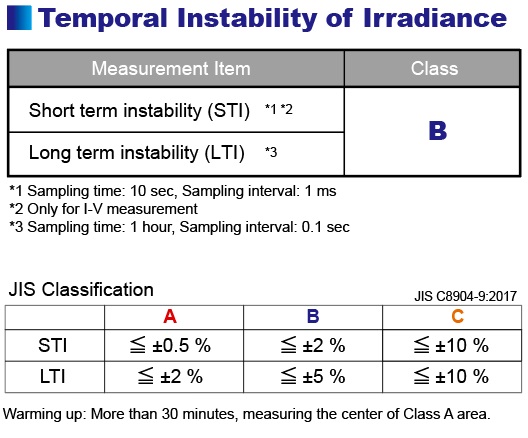 Flexible Configuration with Light Guide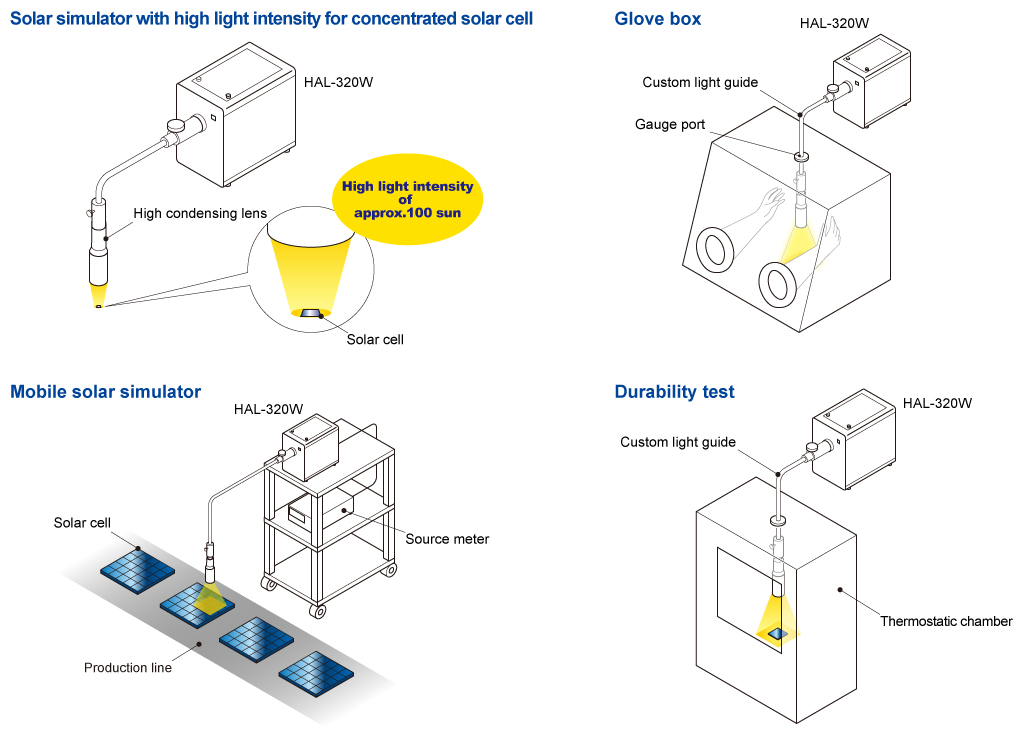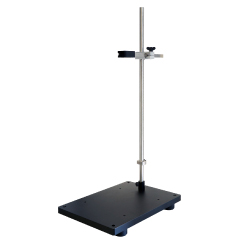 Stand for Collimator Lens
This mounting system offers superior stability and versatility.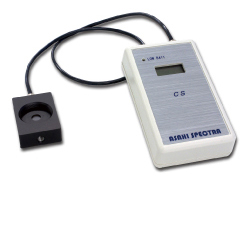 1 SUN Checker CS-40
1 SUN checker is used for checking the light intensity (1 SUN) of HAL-320W. It is battery operated and portable.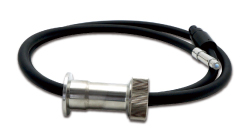 Light Guide (TPO)
This light guide is the option for bringing a light into a glove box. The gauge port is equipped.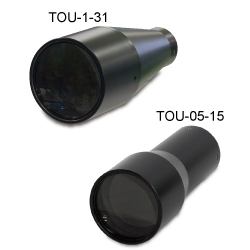 Telecentric Uniform Illumination Unit
The telecentric uniform illumination unit achieves a parallel illumination by connecting to a collimator lens.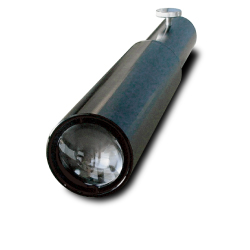 High Condensing Lens
The high condensing lens achieves a high density illumination by connecting to a light guide.
Model
HAL-320W
Output wavelength
350 - 1800nm *AM1.5G filter made by ASC is equipped as standard.
Lighting mode
Continuous
Scope of application
I-V measurement, irradiation test
Irradiance
1000W/m2 (1 SUN condition) *Confirmed with a reference solar device.
Max. AOI on irradiance area
Less than 15 deg.
Input voltage
AC100-240V +/- 10% 50/60Hz
Apparent power
Less than 510VA (AC100V/50Hz)
Less than 500VA (AC240V/50Hz)
Lamp type
Xenon lamp 300W (UV)
Lamp voltage, current
14V, 21A (DC) *Representative value
Lamp control method
Constant power control
Lamp life
500h *Less than 1 year after delivery, under our condition.
Optical axis alignment
Cartridge type (Alignment-free)
Cooling method
Forced air cooling
Functions
Shutter, Timer, Lamp life *Count the lamp usage hours
Light intensity control 100-20 (steps) continuously variable
Remote control
RS232C *The cable must be less than 3m.
Controller
Remote controller
Safety mechanism
Lamp turns off and warning lamp turns on:
Xenon lamp problem, Top door is open, Cooling fan problem, Temperature anomaly
*Circuit protector is used, shut off when AC input is overcurrent
Recommended environment
Temperature 10 - 35 deg C
Humidity 20 - 80% *Avoid condensation
Dimensions
Main unit 200(W) x 300(D) x 292(H)mm
Controller 160(W) x 37(D) x 99(H)mm
Weight
Main unit 11.3kg
Controller 0.6kg (including cable)