News
April 15, 2021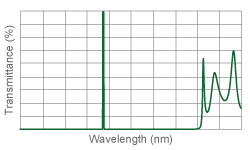 Laser Clean-up Filters
We released laser clean-up filters with >90% transmission and >4.0 optical density.
Asahi Spectra released the laser clean-up filters.
Thanks to the magnetron sputtering coating, they achieve >90% transmission with steep slopes and >4.0 optical density.

The filters are available with center wavelengths of 488nm, 514.5nm, 532nm, 632.8nm, 785nm, 808nm and 830nm,
with diameters of 12.5mm, 25mm and 50mm.

For more details, please refer to the following page.